Tips for Tradies To Avoid Tyre Kickers & Time Wasters
Part of everyday life as a tradie is having new customers calling for a quote.
One major quoting issue for tradies is that many offer free quotes, and because it's free some customers will abuse this and waste your time (aka tyre kickers).
Unfortunately, time-wasting customers do not come with an alert when they contact you. So how can you tell the difference between a serious customer and one that is just fishing around?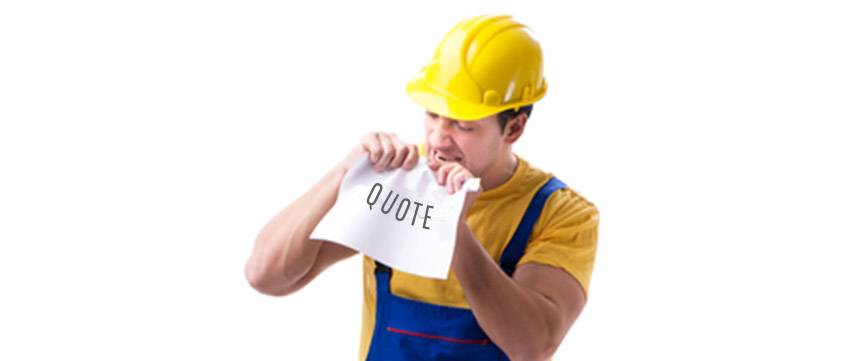 Below are some easy tips for tradies to screen potential customers from the time-wasters..
How did they find you?
How the customer found you in the first place plays a huge part in whether they are serious, and how cautious you need to be.
These days most customers probably find you through an internet search - so screening these customers is important to sort out the serious customers from quote hunters and time wasters.
If they were referred by a friend or family member you did work for in the past then there is a good chance they are serious about using your services..
Give a price guide over the phone
Having experience and a wealth of knowledge in your field gives you a good idea on the many common jobs that customers are asking for and rough costs involved. Save travel and on-site quoting time by offering a price guide so the customer knows beforehand what they can expect.
Always be upfront and honest with pricing; you never do yourself any favours by hiding your prices or quoting a price lower than it actually is - doing so is a good way to waste your time.
Ask if they have a budget in mind
In an online world many customers would have done some basic internet research to determine what their job may cost, so ask new customers what their budget is. If their budget is unrealistically low, let them know the real cost. Time wasters will suddenly change their mind as soon as they know the cost may be two or three times more than they imagined.
However, some customers will have no idea what the job may cost so inform them with a price guide on labour, parts, travel time, etc. Serious customers are likely to appreciate the cost breakdown and still ask for a quote.
Are they trying to haggle your price?
Customers will always ask for a possible price reduction which is fine if there is a valid reason (such as a budget restriction or allowing extended timeline for job completion if you have other jobs in the pipeline). But asking you over and over again for a lower price can be a big warning sign that they aren't serious or will be a problematic customer.
And don't be fooled by the 'lies' time wasters tell you about how cheap the other tradies are in the hopes you match the price, stick to your prices and promote the value your business offers.
When do they need the job done?
Don't waste time driving out to quote on a job only for the customer to tell you they need the job done by a set date and you know you will not be able to complete it in that time. Always ask before you go out and quote.
On the other end of the spectrum, if the customer hasn't a set timeline to start or finish then they are probably shopping around or really don't know what they want and just happy to waste your time.
Have they received any other quotes?
It is not unreasonable to ask the customer if they have any quotes from other tradies. You want to know where you stand and whether going out to a site to quote is worth your time.
A customer that may have 4 or more quotes already is probably shopping around for the lowest price. Also ask them what other tradies have quoted and if you already have a fair idea what the job would cost you could save time on quoting.
What matters to the customer: price or quality
Is it all about price or quality for the customer?
Ask questions and observe how they respond or how willing they are to share information. Are they always asking about the price or being able to 'price match or beat' other quotes, or are they genuine in finding an experienced tradie that can do a quality service and get the job done right?
If they are asking about your gaurantee and your business (not just prices) then that can be a good indication that they are interested in quality and getting a reliable tradie to do the job.
Charge a call out fee
If you are finding you are still getting time wasters then try charging a small service fee or travel fee to cover your time quoting and refund the cost if the customer decides to hire you for the job.
You can even charge a call out fee only for jobs that raise alarm bells.
What's Next?
Identifying the right customers to bring you the most profit, establishing a clear quoting process and quoting collateral are all a big part of your business strategy and important for running a successful tradie business. The best person to help you with this is a business coach that is well versed in the tradie industry. A business coach can help go over your financials, job costing, quoting, employee efficiency and all aspects of running your business.
At Tradie Accelerator our training programs combine both coaching and mentoring to get the best results, so feel free to contact us from our contact page or if your prefer to talk to one of our consultants call 1300 658 403.