Top 7 Cash Flow Problems for Tradies
When you started in your trade you learned excellent technical skills. You worked for others while gaining experience in the profession and had an eye toward starting your own business in the future.
You learned the tricks of the trade, accumulated the necessary tools and equipment, and finally began lining up your prospective customers.
Unfortunately you received little or no training on the "business side" of the business.
Now that you have survived a few months or years of going it on your own, you realise there is a lot more to it than simply getting the job done. You need to service existing clients, find new contracts, balance multiple jobs, put out the fires and most importantly - make sure you keep the cash flowing.
Why is cash flow important?
A healthy business cash flow keeps things moving, it enables you to pay for bills and business expenses, pay your employees and buy tools that will help you work more efficiently.
In addition to covering the costs of doing business, it is also required to grow your business and have the flexibility to explore opportunities and stay ahead of your competitors.
In the latest ASIC report on insolvencies for 2016, inadequate cash flow was attributed to 46% of failures so it remains to be a significant problem with all types of businesses.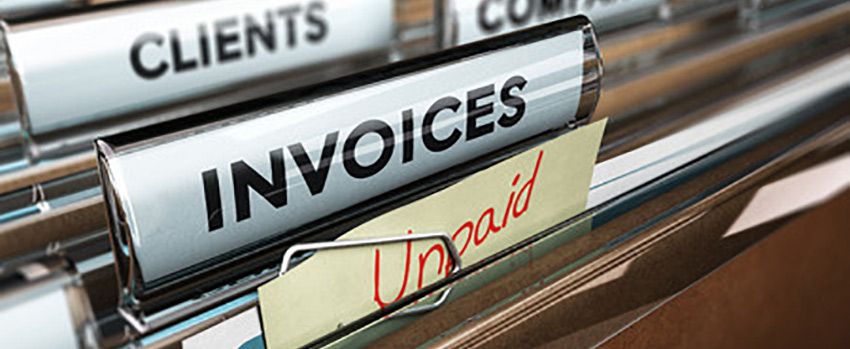 Here are some of the top common cash flow problems faced by tradie businesses. (If you are a small business but not a tradie, there is a good chance they apply to you as well!)
Not invoicing customers
A very common issue with tradie business is a large amount of cash flow being held up purely because customers haven't even been invoiced. When you don't keep on top of invoicing and following up on payments you are limiting your cash flow, restricting the flexibility of your business and hurting your growth.
With the right software you should be invoicing jobs as soon as they done (sometimes in advance or at milestones during a job depending on the scope of the project). So be sure to invoice promptly and make it clear on the invoice when it is due.
Slow paying customers
The last thing a typical tradie wants to do is to go chasing money. When you need supplies for your next contract, the bank payment is due and you need money for an unexpected piece of equipment to complete a job - you just can't afford to let overdue payments drag on.
Unpaid invoices are one of the biggest problems faced by tradie businesses, you need to ensure you have a structure in place to follow up with payments on a regular basis. The right software can make this easier for you to keep track of.
A few ways to reduce the number of overdue invoices include:
Invoice as soon as possible, most people pay sooner when they receive an invoice sooner.
Where possible invoice and collect payment at the job site.
Offer a range of payment methods, whether it's cash, credit card or bank transfer.
Also if you do any work for friends or family, make sure you are upfront about the cost and payment terms to avoid damaging those relationships.
Growing too fast
Although growth is exciting and it is why you went into business to start with, when growth is not managed correctly it can be very costly and can damage your business. It is one thing to manage yourself and a few trusted employees who know what to do with very little direction from you. It is another thing to be constantly hiring, training and managing a growing number of workers.
As the chain of command grows and you put on additional managers to help, the challenges grow exponentially. You find yourself further and further away from the actual "doing of the work" and more into working with your management team, financial backers and large customers.
If you do not have a real business plan that is written down and followed, now is the time to create one and manage your growth so that you are a long term survivor rather than a statistic. It's also worth looking into the value of a business mentor or coach, an expert in business growth will help you navigate the issues and come out on top.
Insufficient gross margins
Early on you can usually cut some corners, work a few extra "unpaid" hours and still make a decent profit. As your business grows and the payroll grows along with it you need to be very careful not to accept lower margins just to get the deal.
Employees and suppliers still want their regular payments and really don't care what you had to do to get the business. As tempting as it can be to get business just to keep people on the payroll, you need to be very careful that you are not mortgaging your future with a never ending string of low margin jobs.
High overhead expenses
Managing expenses is probably not something that you were trained for as a tradie. You intuitively understand that you need a staff to manage things, but creating an infrastructure can be very expensive. Like a family, that infrastructure (administrative staff, bank loans, equipment, etc.) must be fed (paid) whether you have new jobs or not.
Avoid creating more infrastructure than you can handle and always have a plan for the unexpected as business cycles can change overnight. Know who and what you can cut quickly before the inevitable downturn begins.
Poorly managed bookkeeping
Most start up tradies know very little about bookkeeping. Unfortunately, bookkeeping is the ultimate scorecard for your business and your bookkeeper is the scorekeeper.
Bookkeeping is a service that can be easily outsourced and just like using an accountant for your tax, it's common to have a professional do your bookkeeping for you.
It's a good idea to make sure you have at least a basic understanding of the rules and aspects of your books, not only to pick up on any errors and potential issues, but also because your books give you an overview of your business and how it is running and performing.
Poor Credit Terms (Both Directions)
Poor credit management on both sides of the ledger – accounts payable and accounts receivable - puts tremendous pressure on your cash flow.
As a tradie your clients often lean on you to give them good credit terms. Sometimes you extend them favourable terms and then don't manage them closely. In the beginning when there are only small payments you may find they pay on time, but as contracts get larger the accounts payable balances increase and the time to pay increases accordingly. Before you know it, they are in debt to you for hundreds of thousands of dollars.
On the other side of ledger, as you grow you are able to go after bigger contracts and you are able to negotiate better terms for your business. While this is favourable for your cash flow you still need to make sure you keep track of the future payments that you will be required to make to avoid surprises and interruptions to your cash flow..
Regardless of the size of the business you are dealing with it's important to enforce your credit terms so that things never get out of hand.
What's Next?
If you have found that any of the above applies to your business there is a good chance your business will benefit from mentoring and coaching to put structures in place to ensure your business has healthy cash flow.
At Tradie Accelerator our training programs combine both coaching and mentoring to get the best results, so feel free to contact us from our contact page or if your prefer to talk to one of our consultants call 1300 658 403.